Waking this morning with a toothache was cause for me to once again, research "dental tourism." The price for dental care in the US is staggering as anyone in my situation knows.
My situation consists of the need for a couple of crowns, a couple of root canals, a couple of fillings, and maybe an implant. This amounts to the staggering fee of 20 grand at my neighborhood dentist. I know dental tourism in Mexico is kinda of a scary proposition but reducing that 20 grand to the much more palatable 8 grand is a powerful motivator. I've heard the horror stories and the success stories and i'm thinking about trying it!
During my search I discovered a US company Dayo who provides support for folks wanting to travel into Mexico from US border towns for the purpose of Mexican dental treatments. It sounds good to me. They will arrange transport for you to various medical clinics in their list of recommended dental clinics.
They say "As a pioneer in the industry, we understand that finding the right dental specialist is the most important part of travelling to Mexico for dentistry. Dayo Dental is a U.S.-based company that seeks the latest advancements and best practices in the field of dentistry in Mexico. Dayo clients are connected to our network of pre-screened dental facilities along the U.S.-Mexico border, ensuring superior quality treatments from only the most qualified dentists in Mexico. We specialize in guiding you to the best dental specialist based on your unique dental needs and preferences."
I spent a lot of time on their site today, watched the videos regarding dental tourism in mexico and was impressed that they do seem to have a pretty good referral list of dentists that are professional and can take care of my needs for less.
Anyone with experiences with this company? With Mexican dentists? I'd love to hear about it! Good or bad!
Have an interesting day!
Beclecto
UPDATE:
I actually filled out the form while on the Dayodental Website. I even checked airfare to Yuma AZ.  I've just finished a phone call with one of the Dayo Representatives, Christine.  It was a very informational pleasant encounter. No pushing, just ready to answer my questions and offer information. Part of the conversation consisted of Christine sharing typical quotes for the procedures I had mentioned I needed:   Porcelain over nobel metal crowns, 350 per tooth. All Porcelain crowns, 450 per tooth. Fillings start at 75 dollars, Root Canal, 300 to 320. Implants, including post and crown 1670.00. The clinic they reccomend is a complete clinic with specialized dentistry: Endodontist, Oral Surgury, anesthesia, etc.
The process is a first visit for a consultation.  The suggestion is that you plan a minimum three days for the first trip, you'll have your consultation, and possibly some minor work, or prep for more serious projects down the road. Dayo will coordinate your appointments for you and going through them, allows you to pay with credit or debit cards. Their income comes from the clinic they refer to: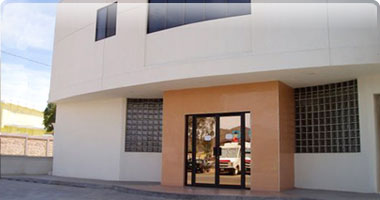 The main facility they use is the one in Las Algadones, about 15 minutes from the Yuma AZ intl airport. Pictured above.
I can have my first appt in 10 days and airfare is only 178.00. I am seriously considering it!